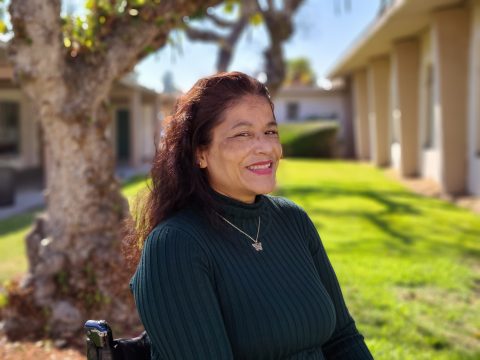 Viewing the beautiful way Alicia Ibarra depicts natural landscapes and animals in her paintings, it does not surprise you to learn that she has been creating soulful and inspirational art since she was in kindergarten (local Bank of America branches would showcase her art as a child).  Although she has periodically taken art classes throughout her life, most of her skills have been either self-taught or learned through watching painting shows.  Alicia prefers painting with acrylics, but is also quite mastered in the art of marbling.  She finds her time creating art to be very therapeutic and is grateful that is has provided opportunities for her to connect with people and make friends.
*The year-round adult and pediatric patient art program is fully funded through the Rancho Los Amigos Foundation.
The Artwork of Alicia Ibarra
100% of the purchase price goes directly to the artist.
Contact Alicia for all billing, shipping, and artwork related questions at Alicerivera0786@att.net