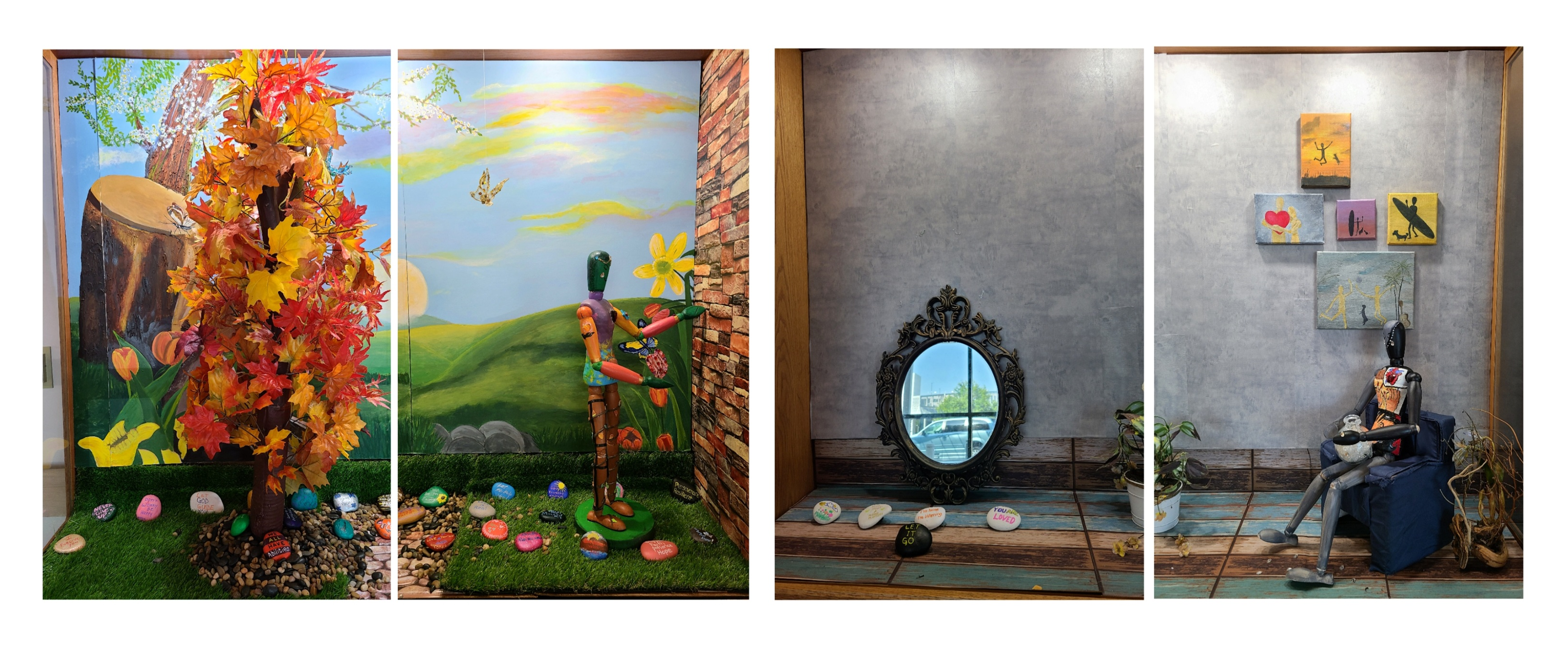 This assemblage installation, entitled Love and Kindness, is housed on the first floor of the Jacqueline Perry Institute at Rancho Los Amigos National Rehabilitation Center represents a collaboration between seven core artists from the Rancho community, along with more than 30 contributing participants from the wider community of friends, family, and staff at Rancho.
Love and Kindness, incorporates two scenes.
To the left, among a landscape of bright flowers, blue skies, and lush foliage one figure holds a heart in their hand, and offers it towards another individual who sits behind a brick wall in isolation, on the right. The 'loving' figure is painted in bright colors and adorned with symbols that represent love, creativity, and freedom, including a butterfly and a dolphin that were sculpted and applied in clay, and an intact, ruby heart was applied on their chest. The individual is open and welcoming despite signs of physical wear on their own body, represented by the leg brace on one side, a symbol of past pains and healing.
The 'lonely' figure on the right side is painted in neutral colors, incorporating symbols of heartbreak, despair, and shame that are painted directly on the body. A shattered heart was applied to their chest. Crystal tears flow from their eyes and flow into a jar that rests in their lap, soon becoming so full that it overflows. The figure sits alone in an empty and gray room, surrounded by dying plants and images of past joys that have become distant memories. The lonely individual has decided to dwell alone, behind a wall, to avoid enduring any more pain.
Both scenes contain painted rocks, offering different messages of love and kindness from community members. The more brightly painted rocks are placed on the left, while a few neutral rocks are placed on the right to remind the lonely figure that hope and friendship exists behind the self-imposed brick wall. A mirror is placed at wheelchair level inviting passersby to incorporate themselves into the lonely scene and consider a message of kindness to the isolated figure and/or to themselves.
This piece was conceived and executed by Rancho artists: Annette Revilla, Omoze Osagiede, Colton Bryant, Dennis Diaz, Michael Morales, Cassandra Tang, and Nikki Abastillas, with assistance from family members, Royce Morales and Frank Revilla. Painted rocks were gathered from extended Rancho community that included their family, friends, and Rancho staff. Workshops were facilitated by artists, Hataya Tubtim and Carlos Benavides.
This project was funded through a grant from the California Arts Council.

Meet the Rancho Patient Artists Involved
Meet the Project Facilitators
Hataya Tubtim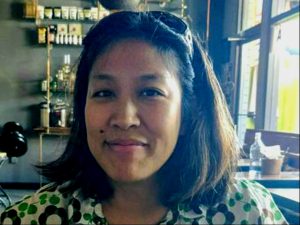 Hataya Tubtim is a community-based artist who utilizes drawing, design, and collaborative practices to illuminate community stories that build empathy and understanding across diverse groups.  Her work is site-specific incorporating research, and emphasizing community engagement. Hataya holds degrees in Illustration (BFA, ArtCenter College of Design) and Social Practice (MFA, Otis College of Design).
Hataya believes that engaged listening and collaborative art making are transformative processes that can heal divisions, deepen relationships, and foster cooperation with our neighbors. Her work examines the exchange between communities and individuals and how each fashions the other.
Carlos has been creating art since he was a teenager doing street art around his neighborhood. Over the years since he has expanded to creating art that one could only define as eclectic using a multitude of mediums such as mixed media, oil, acrylic, photography, and air brush. After being injured in 2003, art fell by the wayside until in 2008, he got involved in Rancho's art program* and realized he could still keep this part of his life alive. Carlos loves the freedom to express himself and does so for his own enjoyment and not for the approval of others. In the years since his injury, Carlos has become a strong advocate for Rancho's patients and believes that just about everyone can benefit from creating art.
*The year-round adult and pediatric patient art program is fully funded through the Rancho Los Amigos Foundation.