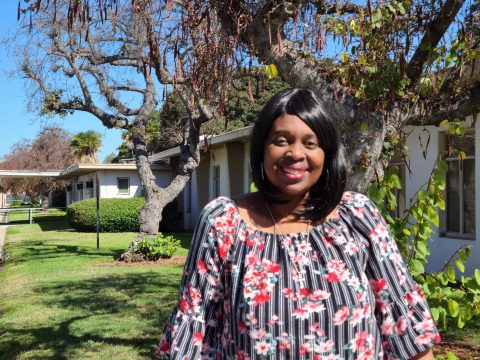 Omoze is a surrealist and abstract artist who prefers using acrylics on canvas and finds joy in painting things that align with her passions…family, faith, and music.  She began drawing and painting in high school, but focused more on music and singing in her adult life.  In 2008, Omoze came to Rancho for therapy and her passion for painting rekindled. She finds creating art a fun way to calm her mind and experience relaxation and has enjoyed Rancho's art classes, as they have broadened her skill levels and strengthened her friendships and relationships with her fellow Rancho artists.  Omoze believes that her art has helped her achieve goals that she did not ever think possible; she has found a sense of patience and focus that permeates throughout her entire life.
*The year-round adult and pediatric patient art program is fully funded through the Rancho Los Amigos Foundation.
The Artwork of Omoze Osagiede
100% of the purchase price goes directly to the artist.
Contact Omoze for all billing, shipping, and artwork related questions at Omoze@Yahoo.com